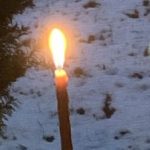 By Judith E. Lipson, M.A., LPC 
It seems that everyone I was talking to, or reading on social media, was focused on the completion of 2020 and the hopefulness for better days! In December, I had a conversation with a client about navigating the unknown. She pointed out to me that there can be a myriad of possibilities of outcomes (that can be viewed through the lens of acceptance, curiosity, and even willingness). At the time I don't think either of us imagined that we would see such a stark difference of possibilities within the span of two weeks in January.
Like you, I was glued to the news (print and TV) on January 6 when the insurrection at the Capitol in DC occurred. I was frightened not only for all those in Congress on that day, but also of the realization of how our democracy had become so fragile.
There was a lot of news in the next days, but let me jump ahead two weeks to January 20, Inauguration Day. Everything related to the inauguration of President Joe Biden and Vice President Kamala Harris filled me with hope:
Their demeanor
President Biden's speech
The presence of three previous presidents and a vice president, representing BOTH parties
The outgoing vice president's participation in the United States' democratic process of the peaceful transfer of power
The many entertainers who honored the events
THAT SPEECH by our youngest poet laureate, Amanda Gorman
The many firsts: South Asian descent, female, Jewish, Second Gentleman, etc.
The virtual celebratory inaugural activities that included messages of hope, inclusion, science, caring for each other, and amazing and pertinent lyrics
Those in attendance following the necessary protocols to minimize the spread of COVID-19
And the fact that it all occurred safely!
Now let's talk about the entirety of this time. [Read more…]