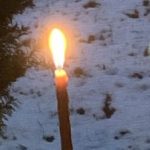 By Judith E. Lipson, M.A., LPC 
It seems that everyone I was talking to, or reading on social media, was focused on the completion of 2020 and the hopefulness for better days! In December, I had a conversation with a client about navigating the unknown. She pointed out to me that there can be a myriad of possibilities of outcomes (that can be viewed through the lens of acceptance, curiosity, and even willingness). At the time I don't think either of us imagined that we would see such a stark difference of possibilities within the span of two weeks in January.
Like you, I was glued to the news (print and TV) on January 6 when the insurrection at the Capitol in DC occurred. I was frightened not only for all those in Congress on that day, but also of the realization of how our democracy had become so fragile.
There was a lot of news in the next days, but let me jump ahead two weeks to January 20, Inauguration Day. Everything related to the inauguration of President Joe Biden and Vice President Kamala Harris filled me with hope:
Their demeanor
President Biden's speech
The presence of three previous presidents and a vice president, representing BOTH parties
The outgoing vice president's participation in the United States' democratic process of the peaceful transfer of power
The many entertainers who honored the events
THAT SPEECH by our youngest poet laureate, Amanda Gorman
The many firsts: South Asian descent, female, Jewish, Second Gentleman, etc.
The virtual celebratory inaugural activities that included messages of hope, inclusion, science, caring for each other, and amazing and pertinent lyrics
Those in attendance following the necessary protocols to minimize the spread of COVID-19
And the fact that it all occurred safely!
Now let's talk about the entirety of this time. As I read metaphysical blogs and journals, I am reminded of a concept that I have shared with you in previous articles: In order for us to achieve Oneness and compassion for all, we need to make visible all that is not aligned with those concepts so that those issues can be revealed and addressed. Boy, were they ever revealed on January 6! In those intervening weeks leading to the inauguration, the news shared stories of arrests, the involvement of many individuals of varied social and political significance, and the misinformation and disinformation of the previous years.
As the truths were being revealed, there was a significant contingent of followers who still thought that everything would be dismantled at the inauguration. After the inauguration I read articles quoting tweets and comments on social media that these followers were writing during the event. It was quite fascinating. They still thought that there would be arrests of all the presidents who were present that day. They still believed that violence would reign on the event. As these things didn't happen their social media messages changed. They were shocked and aghast. They had believed the promises, and they thought the promises were for them. They were frustrated, hurt and angry. They expressed feeling lied to and betrayed, and as I read their responses, I could hear their disorientation.
As I acknowledged their disorientation, I recognized a new possibility, re-orienting! Now is a great opportunity to orient them (back) towards hope, optimism, empathy, compassion, Oneness, and the Light. If this is of interest to you, and you know some of these previously disillusioned folks (a family member, colleague, neighbor, etc.), I encourage you to read the blogs of author, social science researcher, and empathy pioneer Karla McLaren. She has been writing specifically about cults – how they happen, how to support your loved ones who have gotten hooked, and how to potentially bring them out.  Everything that I read, and even stories on the news tell of the importance of trying to stay in contact with these folks so there is less likelihood of them being drawn back to their previous group, or into a variance of what they currently seem willing to leave. Maybe we can help them to see hope in a different type of outcome.
For guidance in this process read the aforementioned blogs by Karla McLaren and watch this four minute video with Dr. Dennis Tirch, founder of The Center for Compassion Focused Therapy. He explains that "compassion is the sensitivity to the presence of suffering and the willingness to do something about it". He additionally suggests the following belief: "I wish for their suffering to cease and I wish for the suffering that they are causing to cease." He goes on to point out that there is nurturing compassion and there is also strong, protective compassion.
I believe in Hope! It was so lovely to feel hope on Inauguration Day. As I watched the last event on Wednesday evening, and saw our new leaders at the Lincoln Memorial looking out toward the Washington Monument with fireworks illuminating the sky, I breathed in the day's events and felt relief and hope wash over me. I openly cried tears of relief and spoke aloud, "It's been a really long four years!!!" You may have felt similarly.
During my life I have fought against all kinds of prejudice, bullying and inequities. In these last years they were not only visible but supported. I'm glad that those who tried to take down our democracy no longer have representation in our highest office, but this mindset is still in our government and they are in our midst. So now though I feel hopeful, I will be mindful to not become complacent.
I will BE hopeful AND vigilant.
I will BE hopeful AND insist on respectable behavior in my presence.
I will BE hopeful AND have my own voice and actions stand for integrity, authenticity, and compassion for all.
How about you? What will you BE?
Judy Lipson is a Licensed Professional Counselor and educational strategist in West Bloomfield, MI. She helps clients of all ages who have learning difficulties, work or school related anxiety, ADHD, Asperger's Syndrome or Autism Spectrum Disorders, and those who wish to Remember and Become 'Who You Really Are'. Contact Judy at 248.568.8665 and judylipson@spiralwisdom.net, and visit www.JudyLipson.com for more information.
This article is for informational purposes and is not meant to replace medical care.