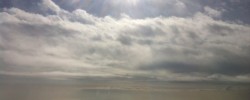 Sensitives are highly attuned to the five senses as well as the sixth sense of energy, empathy and intuition. Sometimes they are at peace with these gifts, but for others it creates inner turmoil and can lead to minor or significant difficulties.
To additionally complicate the situation, some Sensitives have anxieties and/or ADHD and may even be on the Autism Spectrum. They often love nature and animals. They tend to seem older than their years, or may be characterized as 'old souls'. They are often right-brain thinkers who are creative and artistic. They are deep thinkers and tend to be bright. In school or the workplace, they may be unsuccessful or seem unmotivated because of the mismatch between their learning style and the system.
Sensitives may be argumentative and headstrong. They are frustrated with our society because they came into the world knowing how things should be in our institutions, systems and relationships. Yet as children they don't have the power to create this change. Their ability to comprehend their world may be great, but their ability to cope with this awareness is compromised because they have neither the life experience nor the emotional maturation to handle what they know.
Sensitives may feel misplaced and alone. They frequently verbalize their dislike for (or discomfort with) their school, peers, and/or community. Their belief is that few individuals truly understand them and think as they do. Their feelings of personal isolation and different-ness can lead to anxiety and depression, then be exacerbated by the "negative emotions" they absorb while in the presence of others.
Sensitives are often referred to as Six-Sensory Beings because of their heightened awareness of the six senses, sometimes in varying amounts:
Touch: The individual complains about irritating fabric, embroidery, tags or the sensation of water on the skin. Some are uncomfortable being touched by others.
Hearing: This individual hears everything (other than directions to clean their room or put out the garbage). Certain tones can be distracting or even distressing. I had a student who was bothered by the classroom TV's high-pitched sound. In a noisy classroom or environment the individual can have difficulty distinguishing a specific voice in the midst of others, or might feel the need to tune everything out.
Taste: Flavors or textures can limit the types of foods eaten.
Smell: Sensitivity to chemicals or fragrances.
Seeing: These individuals will take in their entire visual surroundings and notice all the details.
Sixth sense: Intuition and the awareness of others' energies and emotions. Sensitives don't necessarily realize that they are sensing the emotions of others. In fact, their anxiety, anger or sadness might be coming from people in their surroundings.
Understanding the Sensitives in your life allows you to avoid focusing on what seemed to be undesirable traits and provides the opportunity for empathy and acceptance for yourself and others. Here are ways to support these individuals:
Teach them that being different is not bad.
Allow them to verbalize their experiences.
Keep your own energy and emotions calm when communicating, especially when offering criticism or suggestions.
Focus on their gifts: compassion, empathy, creativity, intelligence, rather than any challenging behaviors.
Help them realize that they may be affected by the moods of family, peers or even people that they don't know who are nearby.
Provide structure and familiar routines.
Encourage breath-work and relaxation.
Teach grounding techniques for anxiety, agitation or hyperactivity: Sit or stand with your feet on the ground. Imagine the trunk (torso) of your body is the trunk of the tree. Feel the strength of the tree move down through your legs and feet (the roots), anchoring you into earth.
Use your own energetic skills to clear the negative energies from physical spaces
Find a mentor or counselor who understands Sensitives' six-sensory experiences and who can teach them how to set verbal, physical and energetic boundaries and to recognize their inherent gifts.
Continue to educate yourself about Highly Sensitive People, Indigo Children and Crystal Children.
I believe Sensitives will help us to create a peaceful world that promotes and maintains ecological and social responsibility. We who are Sensitives and we who understand Sensitives have an extraordinary opportunity to parent and mentor these Six-Sensories to achieve their destiny. I hold the Sensitives in my life (and yours) in love and light. May we all know and attain our highest purpose.
Watch a 6 minute YouTube video about Sensitives.