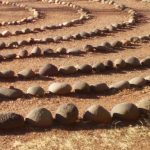 By Judith E. Lipson, M.A., LPC
A time to build up, a time to break down
A time to dance, a time to mourn
A time to cast away stones, a time to gather stones together
(From 'Turn! Turn! Turn!' by The Birds)
When I look back at 2020, I primarily see the breaking-down aspect that is stated in this lyric. Breaking down reminds us of destruction, which is defined as: the action or process of causing so much damage to something that it no longer exists or cannot be repaired. Though that feels like a really bad thing, and like you, I often felt overwhelmed or distraught during 2020, I realize that the process can have very positive outcomes. We are dismantling the previous paradigms in order to determine what aspects should stay, what should go, and what should change dramatically. I am actually quite thankful for the dismantling of so many of our systems and beliefs, though it was challenging to observe and live through.
2021 has arrived, and now it's time to build up! It's human nature to long for the continuation of what was and wait for (or force) its return. I urge you instead to take some calming breaths and think back to the months and years before 2020 when you actually may have longed for some type of change for yourself, for our country, or for the global collective. I encourage you in the upcoming months to look at aspects of your own life and of our global society to determine what practices and beliefs have become outdated, stale, or are now recognized as wrong. Is it time for you to create something?
This may seem like it requires great courage. I believe you have that courage to begin the creation of what you have always sought. Think back to previous events when great change occurred, particularly when it wasn't originally your idea – this might be a break-up, a job change (or loss), or a move. Whatever that situation, remember how frightened, ungrounded, and lost you likely felt. Then weeks or months later it's not uncommon to be able to look back on that original event and recognize the silver-lining that resulted.
I believe we are in the midst of one of these situations. All around us we can see the breakdown of our institutions. And that can feel really scary, especially when we don't know when the process will end, or how it will look.
Besides watching systems change so significantly, it's all happening during a pandemic. The novel coronavirus, COVID-19, is affecting many people in new ways. New information comes to light, the vaccines are becoming available, but the distribution moves slower than most individuals would prefer. You may find yourself wondering things like: How will this new information affect me? How long will these recommendations last? When and how will my activities alter? When will this end? Will this end? Will my life ever return to normal?
Here we are in unprecedented territory! We are uncertain of what is to come, how it will affect us, and how to navigate the entirety of it. I want to encourage each of you to focus on a few concepts as we approach these "unprecedented" significant changes. Let's start by drawing our awareness to the complexity of the term. The definition of unprecedented is never done or known before. It relates to all the things happening to us and around us. Since it has never occurred before, I don't think it is reasonable to assume that there is a distinct roadmap to get through it. I don't bring this up to frighten, but rather to open your awareness to realizing that your roadmap won't be found by looking backward.
Here are some considerations as you look within and forward: [Read more…]