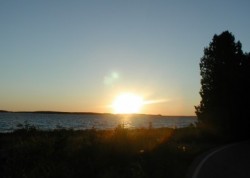 By Judith E. Lipson, M.A., LPC
Holidays are traditionally times of high stress for families. Parents are concerned about finances, selecting the perfect gift, extended families, travel, menus, diets and busy schedules. People can experience it anytime, but stress seems most apparent during the holidays. Even if children aren't consciously aware of parental concerns, they are little sponges for the moods and emotions around them, so they may mirror stress, as well as experiencing their own. It is, therefore, important to try to reduce the stress levels of all family members this holiday season. There is no better way to do that than to embrace the true spirit of Thanksgiving.
Stress and anxiety are complicated. It doesn't take one thing to make someone feel tense, so one technique is probably not going to take it away. But, psychologists know that one of the best practices to reduce stress and anxiety is to focus on the positive aspects that exist (and that can be created) in life.
One way to do that is to practice gratitude or positive affirmations. Some people keep a gratitude journal; younger children or reluctant writers might prefer reciting gratitude statements or positive affirmations in the car, at dinner or at bedtime. Here are some samples for children: "I helped my little sister today." "I tried my best in school." "I made a great assist at today's practice." "I was a good friend." "I am thankful that I have a warm, comfortable bed to sleep in."
Create a new tradition at the holiday table to share gratitude. Along with the invitation, ask each participant to begin thinking about three things for which they are thankful. Then, at the table, have each individual respond to the phrase "I am thankful for_____." There will be humor, emotion and surprises. While sharing, tell your kids why you love them by describing the qualities of each child that you admire and appreciate.
How apropos that November celebrates World Kindness Week, making November an ideal month to practice gratitude. The Random Acts of Kindness website suggests that each family member write a short thank-you note to someone outside the family who has made a positive difference in his or her life.
Being human seems to bring attention to the negative things that happen in life and the media continually focuses on depressing world events. People shouldn't live in a bubble of ignorance, but the media can be balanced by looking at websites that focus on news of peace and social justice in the community and the world (see sidebar for web addresses). Balanced news reduces stress. It also helps children to see the importance of caring for others, which encourages them to do the same.
When gratefulness is exercised, awareness shifts from concern, worry and "lack" to peacefulness and abundance. It may sound trivial and silly, but while I consciously appreciate the one thing that I do have, even for a moment, I am filled with it, and I sit in abundance. Everyone can experience this sense of fullness each day.
I am grateful to you for reading my column, and I appreciate that you care about your children. I wish you and your family a healthy, prosperous and peace-filled holiday season. See you again next month as we learn more to guide our children toward compassionate independence.
Feeling altruistic? Go to these sites for ideas about how to help others:
www.actsofkindness.org
www.helpothers.org
Feeling stressed? Check out the happy news at these sites
www.goodnewsnetwork.org
www.doinggood.com
www.goodnewsdaily.com
Judy Lipson is a Licensed Professional Counselor and educational strategist in West Bloomfield. She helps clients of all ages who have learning difficulties; work or school related anxiety; ADHD; Asperger's Syndrome or Autism Spectrum Disorders; and those who wish to Remember and Become Who You Really Are. Contact Judy at 248.568.8665 and judylipson@spiralwisdom.net, and visit www. SpiralWisdom.net for more information.
Published in Metro You Magazine, November 2010