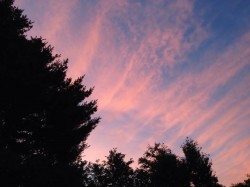 Our intuition is always there, always reading the situation, always trying to steer us the right way. ~ Arianna Huffington
By Judith E. Lipson, M.A., LPC
I've known about my sixth-sense for some time. I first heard the term six-sensory from author and spiritual teacher, Sonia Choquette. Being a six-sensory means that you process your world with more than the conventional five senses (visual, auditory, touch, taste, smell).
Your sixth sense is your gut instinct. It's natural, normal and everyone has it. The parental version of sixth sense awareness happens when children first venture away from parents: When you get there, if something doesn't feel right I want you to call me or leave right away. Others talk about business relationships and opportunities: I just knew from the start that this was not a good person/idea, but I didn't listen to my gut and I got burned. Think about the varied ways that your sixth sense has been involved in your life.
Now that we have established that you have a sixth sense, the question is: Do you listen to yours or have you ignored your inner voice?
Choquette believes that "your sixth sense should be your first sense". Author Sophy Burnham (The Art of Intuition) says it's the subtle knowing without ever having any idea why you know it. If you are ready to embrace your six-sensory self, there are ways to develop, and learn to hear, your inner voice / gut instinct / intuition: 
RECOGNITION – It is already communicating with you, but your mind's chatter hides it. Busy minds and activities make intuition difficult to receive.
SOLITUDE AND CREATIVITY allow you the opportunity to reconnect with yourself, so strive to regularly build them into your schedule.
MINDFULNESS – Silent meditation is the most common, but you can be mindful during chores, exercise or any other activity. Focus your mind on each aspect or movement of the activity to quiet the chatter.
BREATHWORK – In your mind's eye watch the movement of your chest and abdomen as it moves away from your spine on the inhale and then back inward on the exhale. This also helps to focus the mind and still your thoughts.
RECEPTION – You may 'hear' the message, see symbols or visual pictures, feel sensations or emotions in your body, or have a vague yet clear 'knowing'. It may seem like a subtle whisper or a powerful download.
WRITE/DRAW – Relax your mind, close your eyes if you wish and write or type whatever comes to mind. You can similarly draw in a free association manner.
DREAMS – Dreams and intuition both come from the unconscious. If you remember your dreams, they can become a source of information. Begin each night with a request for information about a specific question. When you awaken, write in your journal everything that you can recall about that dream as well as your questions and recent life events. Review your journal regularly looking for symbols and patterns.
DISTINGUISH the difference between mind chatter and your inner voice. As you practice you will likely notice that your inner voice speaks clearly, concisely, gently and without judgment. These are not the typical descriptions of your inner chatter.
MAKING A DECISION? Imagine a path or a doorway for each of the choices that you face. As you approach each: feel for density, heaviness, thickness; observe the visual cues of light, dark, color, sparkles; look for excitement, dread, fear, approachability, resistance, expansion.
PRACTICE will allow you to trust your inner voice/instinct/intuition. Begin with small questions that don't feel life altering, such as, which route should I travel to my destination today?
EMPATHY – Your empathic abilities are a gift. You don't require the fullest amount of input to have the knowledge. Instead, modulate the amount of information that comes in to you. Use intention as well as the techniques described in Energy Cleansing.
TRUST your intuition and allow it to become a more significant part of your daily life!
Living life as a six-sensory is beneficial because all of your senses are more attuned to give you the fullest information. This allows you to see the many options that are available, to know when to proceed and when to withdraw, in relationships and professionally, and to ultimately recognize and live your life's purpose.
When you are connected to your inner wisdom you can experience a deep, strong connection to your true Self. This provides a calm and confident power, fewer emotional triggers and less anxiety or depression. Living a six-sensory life is a profoundly empowering experience.
Judy Lipson is a Licensed Professional Counselor and educational strategist in West Bloomfield. She helps clients of all ages who have learning difficulties; work or school related anxiety; ADHD; Asperger's Syndrome or Autism Spectrum Disorders; and those who wish to Remember and Become Who You Really Are. Contact Judy at 248.568.8665 and judylipson@spiralwisdom.net, and visit www. SpiralWisdom.net for more information.