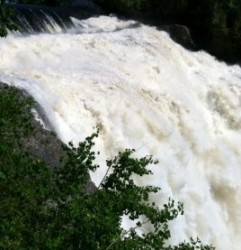 As a spiritual being having a human experience, it's important to care for all aspects of your being.
By Judith E. Lipson, M.A., LPC
You are more than a physical structure. There is energy in and around your body. Clinicians who study acupuncture follow the energy along meridians to look for blockages or sluggish movement. Correcting these can improve health, pain and mood. Also within the physical body are chakras – energy centers. Each chakra corresponds to specific physical structures of the body as well as to emotional and psychological processes; and is also linked to a symbol, name, musical tone and color. There are seven major chakras: the root chakra at the base of your torso, abdominal, solar plexus, heart, throat, third eye at the center of the forehead, and the crown chakra at the top of your head.
Those who are hyperaware of the traditional five senses as well as the sixth sense of intuition, empathy and energy are considered Highly Sensitive People. If you are a Sensitive, other peoples' energy fields as well as the electro-magnetic fields of your environment likely affect you. When all of this inundates your energy fields, it can lead to emotional distress, physical tension and even illness. There are a number of practices that you can use to clear or balance your energy:
FOR THE SELF
DURING A SHOWER use the water to wash away all uncomfortable emotions and tensions from the day. Have it all flow down the drain.
IN A RELAXED STATE, IMAGINE A SPONGE passing from head to toe on all sides of your body. As the sponge moves down, it removes the excess tension, emotions, energy, and any challenges that had accumulated throughout your day.
PLACE A BUBBLE of pink or white light around your body to keep "other" separate from "self". You may visualize any color, a balloon, ball or even a force field around yourself.
CHAKRA BALANCE: In meditation, bring your attention to each chakra beginning at the root. Use your own intuition to balance the hue, density and size. Strive to bring balance to each. (You can find CDs or individuals to facilitate this process.)
HUM THE MUSICAL SCALES to balance the chakras via vibration. It isn't necessary to know which note corresponds to each chakra. Deeply hum the scales and feel the vibrations within your body.
RELEASE OLD TRAPPED EMOTIONS that congest the energy. You don't need to remember, you just need to release. This can be done through exercise, movement to music, massages and bodywork.
SEA SALT baths: a 10-minute soak helps to remove any released energies or toxins.
DRINK WATER to help the body move energy and toxins.
ENERGY MODULATION: If you are an intuitive or empath, you can feel others' energies and emotions within yourself. It is important to learn how to regulate the input. First try to identify where you sense this energy entering. Most clients tell me that it enters at the abdominal or heart level. Find an image that allows you to have a "selectively permeable membrane" at that location. Consider visualizing the blowhole of a whale or dolphin, the weave of a fabric, screen or grid, or the adjustment of a color's hue. I have had a computer expert describe it as a firewall. Others see it as a swirl that needs to slow or quicken. What's important is that you select a method that resonates with you and practice shrinking and enlarging your portal while in a relaxed state. Then, set your intention when entering a challenging environment or when feeling overwhelmed, to shrink the size of your portal.
FOR THE HOME OR SCHOOL
You can additionally assist yourself and others by decreasing the amount of excess energy in your surroundings. The individual is then better able to neutralize his or her own vibratory fields.
SMUDGING is used to move the accumulated energy in one's environment. Dried sage, cedar or sweetgrass is lit, extinguished, and the smoke is moved through the rooms, especially in corners. Please be cautious with the fire and note if anyone is sensitive to fragrances.
TUNING FORKS work in the same manner as smudging, but the tone that is emitted moves the energy.
COLLECTING AND REMOVING EMOTIONAL ENERGY: Ground yourself, use your intention, and invite the excess energies of the room or home to a location that is not immediately near you. Depending on what resonates with you, direct these energies to depart through the ceiling, a window, or to the ground. This is especially helpful when someone is triggered by anger, fear or agitation of others in the space.
Your energy fields are affected by many factors. I encourage a regular practice of cleansing to influence the ease vs. dis-ease of your life.
Judy Lipson is a Licensed Professional Counselor and educational strategist in West Bloomfield. She helps clients of all ages who have learning difficulties; work or school related anxiety; ADHD; Asperger's Syndrome or Autism Spectrum Disorders; and those who wish to Remember and Become Who You Really Are. Contact Judy at 248.568.8665 and judylipson@spiralwisdom.net, and visit www. SpiralWisdom.net for more information.