By Judith E. Lipson, M.A., LPC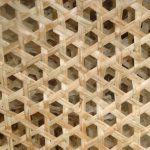 Years ago I attended a seminar that explained how people tend to compare themselves to others in a judgmental manner. Participants were encouraged to look at their own and especially others' lives as a tapestry. While the front of the tapestry may appear flawless, the back is filled with knots and strings. Therefore it is important to remember:
That which is visible as well as that which is hidden make up the entirety of one's life; so don't be fooled by seeing only that which is visible.
As the years have passed, I realize that to understand the individual's or the collective human experience, there are additional 'invisible' layers to detect and understand. How might your life be different if you looked at all the aspects that create your life? Would you then see the completeness of yourself more accurately? What would it be like if you viewed the varied aspects of your own life, and not just the perceived whole?
Please be candid as you evaluate yourself, and avoid dwelling on a perceived negative detail (that cellulite, blemish, etc) as this one aspect does not define your whole self. Allow yourself to see how your life can be different if you recognize the entirety of who you are.
As you seek the awareness of who you really are, you can also observe patterns. Some of these patterns are hidden, while others might be quickly recognizable as themes that have recurred through your life. These themes might include abandonment, loss, power, justice, control, truth, peace, nature, seeking, etc. These patterns likely make up some of the lessons that your soul has chosen to experience in this lifetime.
To identify these themes, you can evaluate the experiences of your childhood. You might also consider the following: Some professionals believe you can carry subconscious or energetic memories from your time in-utero, and others believe you might carry the biophysical effects of traumatic experiences that your parents and grandparents experienced. Respected psychiatrist Dr. Brian Weiss additionally believes that the energetic memories of your prior lives can impact you in this lifetime.
To release the effects of these patterns there are varied approaches.
Move your energy (chi) through your body. Effective examples are tapping (Emotional Freedom Technique), acupuncture, massage, yoga, and tai chi.
Practice meditation.
Support your physical body with plenty of sleep, nutritious foods and water.
Work with a therapist, especially one who knows how to see patterns and themes.
Meet with a spiritual counselor.
Try guided imagery and/or past life regression.
Look at the entirety of the tapestry of your life. Might you want to examine the patterns, layers and dimensions to determine if your tapestry might be rearranged? Doing so might decrease your anxiety, assist you in relationships, and improve the overall quality of your life. Enjoy your journey. I welcome hearing about your experiences.
Judy Lipson is a Licensed Professional Counselor and educational strategist in West Bloomfield, MI. She helps clients of all ages who have learning difficulties, work or school related anxiety, ADHD, Asperger's Syndrome or Autism Spectrum Disorders, and those who wish to Remember and Become 'Who You Really Are'. Contact Judy at 248.568.8665 and judylipson@spiralwisdom.net, and visit www.SpiralWisdom.net for more information.
This article is for informational purposes and is not meant to replace medical care.