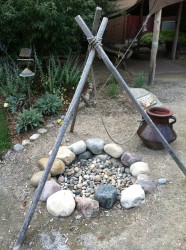 There are no lazy students, but there are kids who learn differently.
By Judith E. Lipson, M.A., LPC
At one time teachers taught from the front of the classroom to students who were expected to remain quietly seated at desks placed in rows, listening silently to the teacher's instruction, or reading from their text. Most educators now recognize that this is an ineffective educational environment, one which frustrates students, teachers and parents because it does not meet most students' learning styles.
The prerequisite to understanding learning styles is to accept that people process information and express what they have learned differently. Parents know that each child has a different personality, a different way to approach problems and a myriad of other differences. It is equally important to recognize that children and their parents often have different learning styles. When there is a mismatch between parent and child, the parent sometimes expects the child to "get-over-it and get serious". Instead, they should support and tutor their children with the method that best matches their individual style.
Each student should know their learning style and use their strengths to compensate for an instructional mismatch. I usually ask my students: "If you could choose, would you prefer to learn from a teacher who stands in front of the class and teaches from lecture and class discussion, the teacher who hands you a worksheet and book and leaves you alone, or a teacher who provides projects?" The student who prefers lecture/discussion is primarily an auditory learner, the one who likes books and worksheets may be visual, and the student who likes projects is likely tactile or kinesthetic. But don't be fooled by that simplicity. There is frequently a blend, and a preference. And there are other considerations, i.e.: the student could avoid discussion or projects due to shyness and discomfort. Therefore, these questions are only a guide.
Additionally, some students are global thinkers who look at the big picture and think out-of-the-box. Others prefer to work in the structured world of details, lists and clear expectations. Learners can be creative – music, visual arts, poetry, etc. Many learn best when they use their hands and incorporate movement with instruction.
Dr. Howard Gardner has identified multiple intelligences. Success does not just come from IQ. He points out that of the 9 intelligences (listed below); linguistic and logical are the most commonly used in our classrooms. The others also predict long-term success, yet they are not emphasized in schools. As a result, students can lose sight of those gifts.
Linguistic – spoken and written word
Logical– reasoning and problem solving
Kinesthetic – movement and interaction with the environment
Existential – connecting to larger understandings
Interpersonal – interaction with others
Intrapersonal – feelings, values and attitudes
Visual – seeing and imagining
Rhythmic – sound and patterning
Naturalist – categories, classifications, and hierarchies
Thankfully, teachers are now taught the importance of meeting the educational needs of all students, and many classrooms use cooperative learning groups and other alternatives for instruction and assessment. But these opportunities are not consistent in all classes, and because of the repeated use of traditional and standardized tests including Core Assessments, MEAP and the High School Michigan Merit Exam (ACT/MME); many of our children are unable to demonstrate their competency using these forms of measurement. This often creates a disinterest in school learning.
When "bright but unmotivated" students, or those who have been diagnosed with ADD/ADHD or Asperger's Syndrome, can make it beyond school and become successful adults, they are often society's CEOs, inventors, futurists, artists, musicians, etc. Having different strengths among co-workers is valued.
Problem Solvers
Writers
Idea People (short term)
Futurists (long term)
Organizers and Developers
Explorers
Negotiators
Directors
Communicators
Team Builders
Many teachers are already striving to reach and teach all learners. As parents and community members we can support them. Encourage legislators and schools to support an educational system that addresses all learning styles and supplies the needed resources for our educators to provide instruction and evaluation that enable every child to succeed.
Judy Lipson is a Licensed Professional Counselor and educational strategist in West Bloomfield. She helps clients of all ages who have learning difficulties; work or school related anxiety; ADHD; Asperger's Syndrome or Autism Spectrum Disorders; and those who wish to Remember and Become Who You Really Are. Contact Judy at 248.568.8665 and judylipson@spiralwisdom.net, and visit www. SpiralWisdom.net for more information.