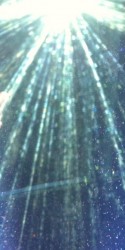 A unique and evolving vocabulary to describe an increasing number of children 
By Judith E. Lipson, M.A., LPC
During my years working in the schools and in my private practice, I have met many Indigos. I find them to be wise, intuitive, caring, and curious and they often have a "spark" – which seems to challenge the existing educational and societal constructs.
Many students who have been diagnosed with ADHD are Indigos. It's as if the characteristics that define one, describe the other: out–of–the–box, right-brained and otherwise unconventional learner, and global thinker.
In addition to the previous descriptors, Indigos are often described as old souls. They may be immature, yet older than their years. They like animals and nature. They might seem to have low self-esteem while simultaneously acting grandiose. The rebellious spirit of the Indigo seems to say: I know I'm here for a purpose. I know that the way we treat each other and our Earth is supposed to change. I'm tired of waiting. Let's get on with it!
Indigo children are described as being born in 1978 or later, yet many born prior to 1978 will see themselves in the Indigo descriptors. Authors Nancy Ann Tappe, Lee Carroll and Jan Tober have written about Indigo children. Doreen Virtue, in her book The Care and Feeding of Indigo Children, offers a complete list of characteristics.
At the time of their identification, Indigo Children were not as common as they are now. Over the years I have encountered many more of these students. The qualities of Indigos also seem to be changing, evolving if you will. Doreen Virtue identified this next group as Crystal Children. They have all the same qualities as the Indigos, but they don't have the rebellious spark and vigor. They personify the empathic spirit of the Indigos. It's as if they exude love and are spreading compassion and acceptance.
Incidentally, no group is considered "better" than another. They may be variations or maybe each group has a purpose. It seems that Indigos had to jumpstart change. Most people are not keen on changing and systems can even be slower. So Indigos needed a kick-butt attitude to get us moving.
Just as Indigos increased in numbers, Crystals are also increasing in numbers. I have considered the possibility that many children with autism are Crystal Children. Is the growing number of children with autism indicative of the increase of Crystal Children? While children with autism are hypersensitive, not all Sensitives, nor all Crystals, have autism. As I explained in Sensitive Children, Sensitives are interconnected with others on an empathic and energetic level, though they are often challenged to connect with others socially. I have heard many parents of children with autism tell of their child's psychic knowing about family, friends or others. Parents also often describe their children with autism as being filled with love.
Another group are Rainbow Children. They are similar to Crystals, but according to Doreen Virtue they don't have the karmic 'baggage' of past lives. Baggage refers to unresolved issues as a result of our life experiences. Karmic baggage is the idea that a person has unresolved issues that have carried forward from other lifetimes. Students of metaphysics hold the belief that these experiences from past lives can subconsciously affect us in the present.
Indigos, Crystals, Rainbows, Lightworkers, Sensitives, Six-Sensories, Star Children. Regardless of the name, they/we are living these concepts: We are all interconnected. We are each more than a member of the family of Earth, or even the Universe. We are multidimensional beings.
I strive to help these individuals, their families and educators realize that though they don't always excel in the way that society expects – academically, socially, etc, they have gifts and are worthy. Regardless of age, as I work with these individuals I help them to:
Understand and accept their sensitivities, empathy and intuition
Develop self-confidence and be empowered
Establish personal and energetic boundaries
Minimize their sensitivities, fears and the effects of anxiety
Remember that they are spiritual beings having a human experience
I hold the Indigo, Crystal, Rainbow and Star Children in your life in light and love. May we all recognize our purpose and live our lives to their fullest potential.
Judy Lipson is a Licensed Professional Counselor and educational strategist in West Bloomfield. She helps clients of all ages who have learning difficulties; work or school related anxiety; ADHD; Asperger's Syndrome or Autism Spectrum Disorders; and those who wish to Remember and Become Who You Really Are. Contact Judy at 248.568.8665 and judylipson@spiralwisdom.net, and visit www. SpiralWisdom.net for more information.
Published in Metro You Magazine, June 2012