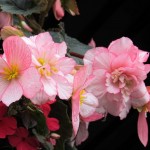 By giving you acknowledge the presence of, or your desire for, abundance.
By Judith E. Lipson, M.A., LPC 
Have you heard the adage that what you give, you receive?
It is often suggested that individuals who are depressed volunteer. Giving is a feel-good activity: it can raise endorphins, increase one's sense of empowerment and establish social relevance.
Financial advisors often recommend that people donate to a charity of one's choice, even if it is a small amount.
The Beatles sang on their Abbey Road album: And in the end, the love you take is equal to the love you make.
IS INTER-CONNECTEDNESS AND EMPATHY THE KEY?
In 2009 the California based McClatchy Newspapers found that those who are poor donate 4.3% of their income to charities, while the rich donate half that (2.1%). After reading this, Michael Kraus, assistant professor of psychology at UC Berkeley, developed a study with colleagues. He found that people with a lower income are conscious of their own precarious situation, and are more sensitive to the challenges that others may be facing. Kraus found that those who are middle and upper class were found to be more disinterested of others, yet nearly as likely to donate when they had been primed for compassion by a sensitizing video. Kraus says, "If you were just to slow down a little bit and consider the people around you and their emotional experiences, you would become aware of other people's distress and you would probably be more likely to help people when they need it." (Studies try to find why poorer people are more charitable than the wealthy. Michael De Groote, Deseret News, 5/25/12)
THE ENERGY OF GIVING
Medium John Holland says that loving yourself starts a high-level vibration through your heart center, and attracts love in many forms. Here's another explanation of this: Every thought, even those directed toward self, launches a unique vibration that goes in all directions and dimensions – think physical, time, spiritual – and collects other similar vibrations. Then this multiplied result returns to its point of origin – you. Teachers of metaphysics explain that whatever you give – fear or love – returns to you ten-fold.
If you resist giving, then you pinch the flow of energy (the vibrations) making it less likely to receive. If you are self-aware, you can actually feel this pinching inside your body. It may feel like inner tension and stiffness. You can address it outwardly by beginning the cycle of giving, or you can address the energy directly:
Connect with nature or your Faith.
Look at your thoughts and avoid interpretations of scarcity.
Soften the inner tension and stiffness by relaxing your arms, face, shoulders and legs, and then focusing your breathing into the 'spaces between the molecules' of your tightness.
When your energy is pinched-off it affects both emotional longings (love, affection, attention) and money-oriented desires (material goods, job, etc).
IN RELATIONSHIPS
Do you feel that your significant relationships are one-sided? If you actually or symbolically point your finger at another, realize that when your index finger stretches outward in blame or anger, three other fingers point toward you. Often what you are 'judging' in the other is what you desire for yourself. Make the effort to evaluate what you think you want from others so that you can identify what you need to provide for yourself. Do you want time with your spouse? Initiate time together. Do you want more physical affection? Reach out and touch. Do you feel overwhelmed and unsupported? Incorporate self-care and healthy boundaries so that you can be open to support others, and to receive from them as well.
GIVE BECAUSE IT IS WHO YOU ARE
You may have a knowing that there is something important you are here to do. Sometimes Being is your path. If not, and you are still seeking or developing your true mission, you can enhance and spread your Light while you are waiting. You don't have to be Mother Theresa. While you are working toward the career or spiritual path that you envision, be the Light for each person that you encounter. By doing so you become a mirror for love, which encourages an outpouring of love from others.
GIVE NOW
Your thoughts – send thoughts of kindness, compassion and good will.
Your smile – include the loving energy from your heart-center.
Material goods – release the items you no longer need to provide for others.
Whatever you give comes back to you. This is the 'law of abundance'.
Judy Lipson is a Licensed Professional Counselor and educational strategist in West Bloomfield, MI. She helps clients of all ages who have learning difficulties; work or school related anxiety; ADHD; Asperger's Syndrome or Autism Spectrum Disorders; and those who wish to Remember and Become Who You Really Are. Contact Judy at 248.568.8665 and judylipson@spiralwisdom.net, and visit www. SpiralWisdom.net for more information.
Published in Eydis Magazine November 2015